05.07.2016
Are You Ready for the Era of Smart Lighting?
Maturation of LED lighting technology has driven LED manufacturers to highlight smart lighting and control systems at Light+Building 2016, which takes place this week at Frankfurt Fair and Exhibition Center in Germany. Below is a summary of major manufacturers new smart lighting products, and trends we've observed:
1. Manufacturers are integrating different communication protocols into their smart lighting products. Since IoT is still in its early stages, the role lighting manufacturers will play in this new ecosystem remains uncertain. Manufacturers are diversifying their investments in the IoT sector to raise their chances of success in finding a killer app in a certain application.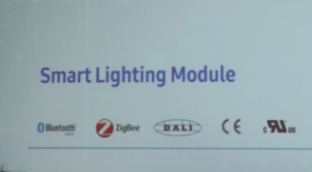 Smart lighting module and the multi-protocols it supports. (All photos courtesy of LEDinside)
2. Many manufacturers have employed EnOcean's wireless energy harvesting control devices in their smart lighting products, since it can control lighting wirelessly and does not require batteries. The EnOcean device converts and stores kinetic energy when it is pressed by a person's finger. The device can be installed in any fixed position in houses and office environments. An advantage of the product, is it creates minimal disruption in user habits. Consumers do not have to make any accommodations to becoming familiar with the new lighting controller, since the device operates in the same way as traditional lighting controllers.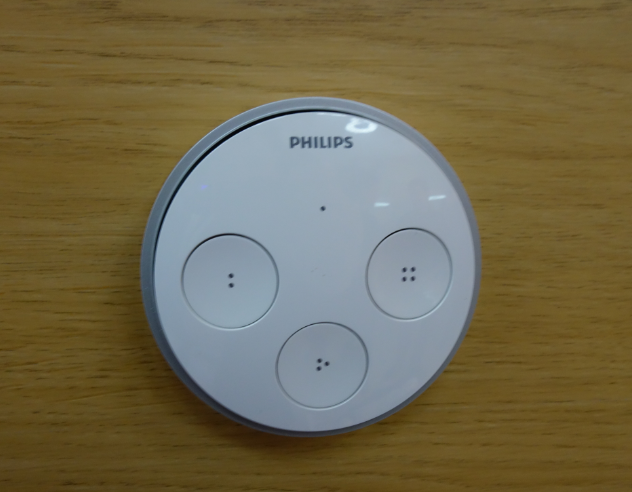 A Philips smart LED lighting controller that uses EnOcean energy harvesting controllers.
3. For indoor positioning systems and related data collection, sensors or luminaires are combined with WIFI, Bluetooth and VLC technology are used to pinpoint the indoor position and collect data.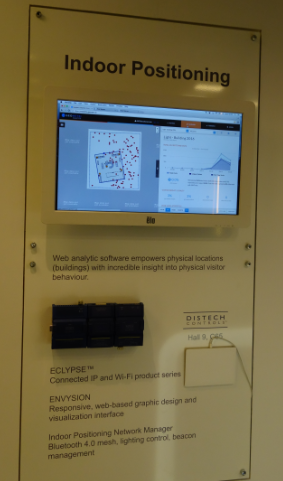 LED-based indoor positining systems were also a highlight at Light+Building 2016.
Next, we will take a closer look at each manufacturers newly released products: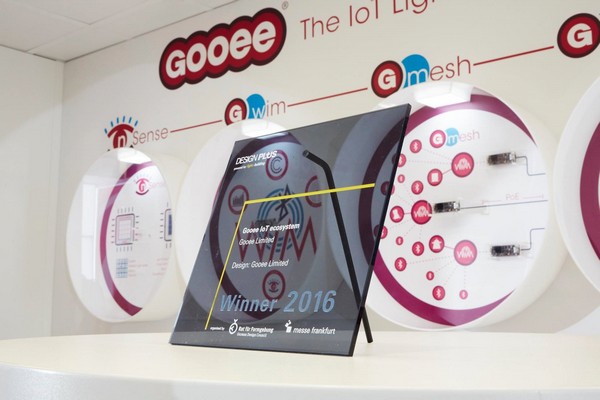 Gooee

displays at its booth the IoT lighting Ecosystem innovation award that it received under the Design Plus Competition of Light+Building 2016.
Gooee
Gooee was the star of smart lighting concepts at the show, its innovative smart lighting solutions and business operations were under the spotlight. The IoT platform provider for lighting was awarded the IoT lighting Ecosystem innovation award under the Design Plus Competition of Light+Building 2016.
Gooee has developed a multi-protocol Gateway, which can connect and integrate lighting and sensors to a cloud platform. The Gateway can supports multiple communication protocols including Bluetooth, Zigbee, and WIFI chips, Ethernet and Serial port. The Gateway offers interoperability options of on-premise or cloud services. Additionally, Gooee has released a Power-over-Ethernet (PoE) to Bluetooth extender device that runs the Mesh protocol and works with the gateway to extend the mesh range and also increase the number of end-points that can be managed by the Gateway.
"Gooee is collaborating with lighting clients to provide lighting solutions that can be combined with various sensors," said TY Chen, the company's Asia Managing Director. "Newly developed Sensor ASIC supports motion, temperature detection, ALS, lighting performance monitoring…and other functions that integrate wireless technology to realize a smart environment. It can even identify a person, trace products and be used in other applications." Manufacturers can broadcast information onto consumers' smartphones, and upload this big data onto a cloud server. Depending on end market client demands, lighting manufacturers or end market clients can save this data for big data analyses later on. This operation business model would support lighting manufacturers' grand entrance into the IoT ecosystem, which could go beyond lighting in the future. At the moment, Goee has forged partnerships with lighting clients including Aurora, Havells Sylvania and others.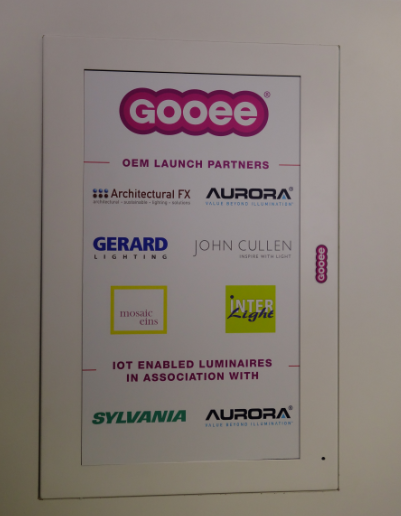 Lighting manufacturers that Gooee currently has a partnership with include Havells Sylvania, Aurora, and Gerard to name a few.
FSP
Taiwanese power device supplier FSP has been in the LED lighting market for many years, but what sets it apart from other power suppliers is its deep understanding of customized power modules. At the lighting show, the company showcased Advanced Dimming Solution that it co-developed with European lighting manufacturer Hella, which is a device that integrates smart modules within the power module. Since most client demands have been for outdoor industrial lighting products, product design requests include temperature control, surge protection, water proof and dust proof casings.
The product supports communication protocols including DALI 1, DALI 2, WIFI, and Bluetooth. Changes in the power device's firmware can be directly made via WIFI or Bluetooth connection, which can change the thermal protection settings or lighting control.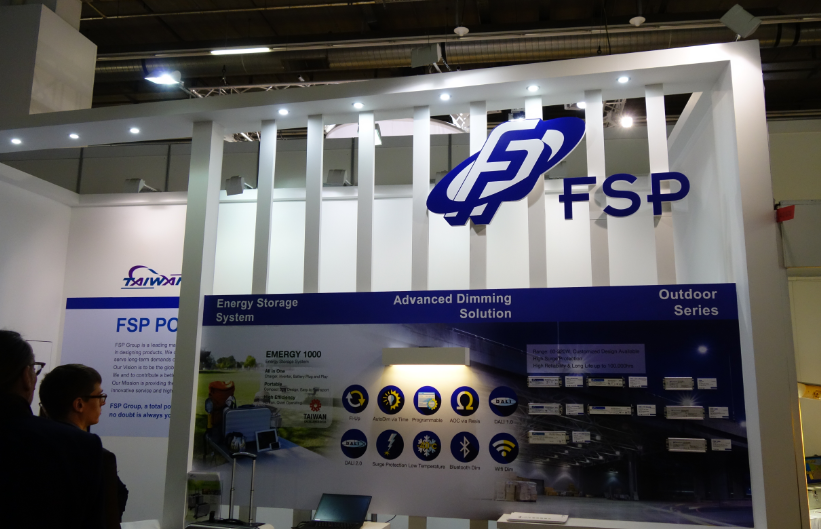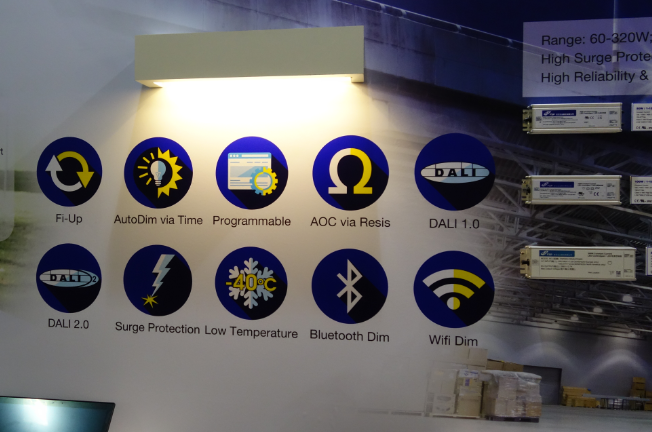 Top: FSP booth. Bottom: Product features of FSP's smart lighting control devices.


eldoLED
Dutch manufacturer eldoLED's R&D team members is mostly from Philips, and after being acquired by Acuity Brands, the lighting manufacturers have collaborated on making more smart lighting products.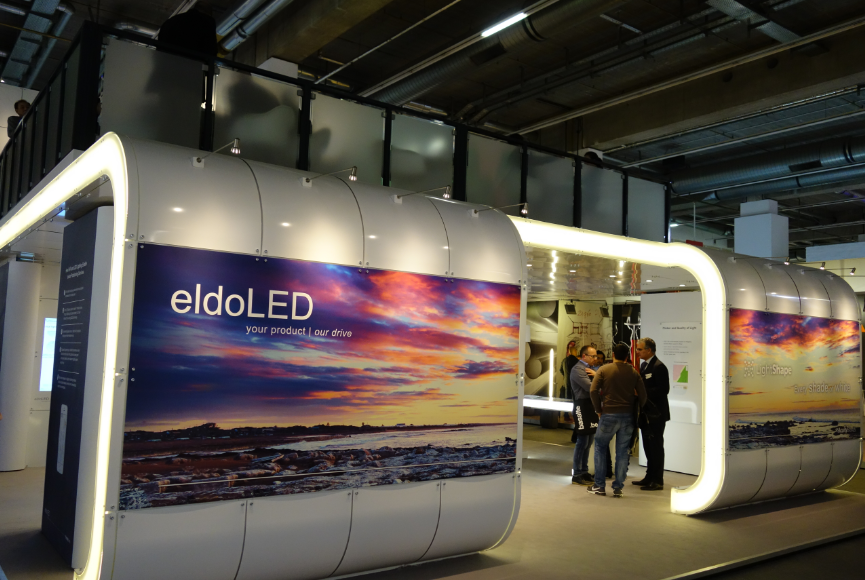 eldoLED booth at Light+Building 2016.
At the lighting show, the company's highlighted product was the Visual Light Communication (VLC) based indoor positioning systems, which transforms each luminaire into a fixed IP, and uses light signals to transmit data onto users smartphones to tell them their current position. The device is suitable for museums and retail guide applications, and can be used to broadcast discounts or deliver navigation directions onto smartphones. However, in terms of user preferences few people want to download an App the first time they visit a retail shop, hence eldoLED is working on how to create a more user friendly experience in the product's next development phase.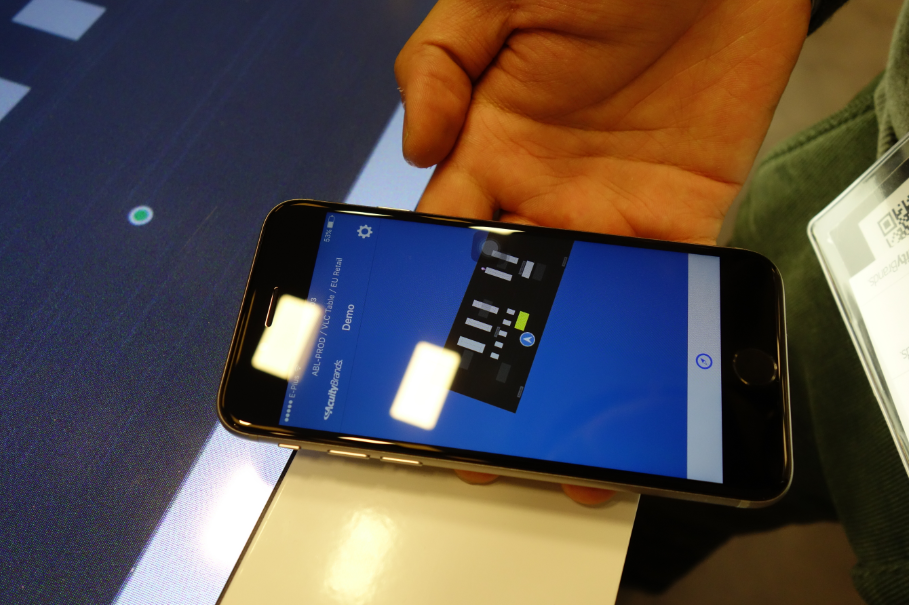 eldoLED's smart lighitng control device.
Another strength of the company is natural dimming, which reduces strobing during the dimming process. eldoLED's dimming technology reduces strobe even when the lights are dimmed from 1% to 100%.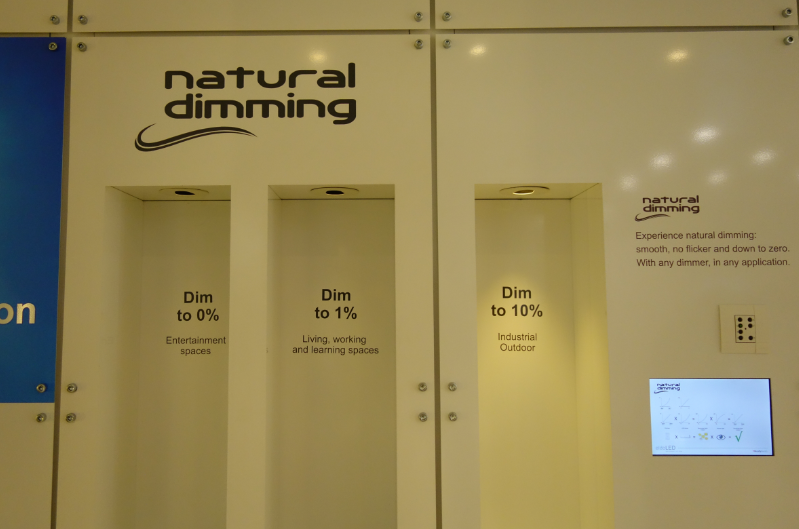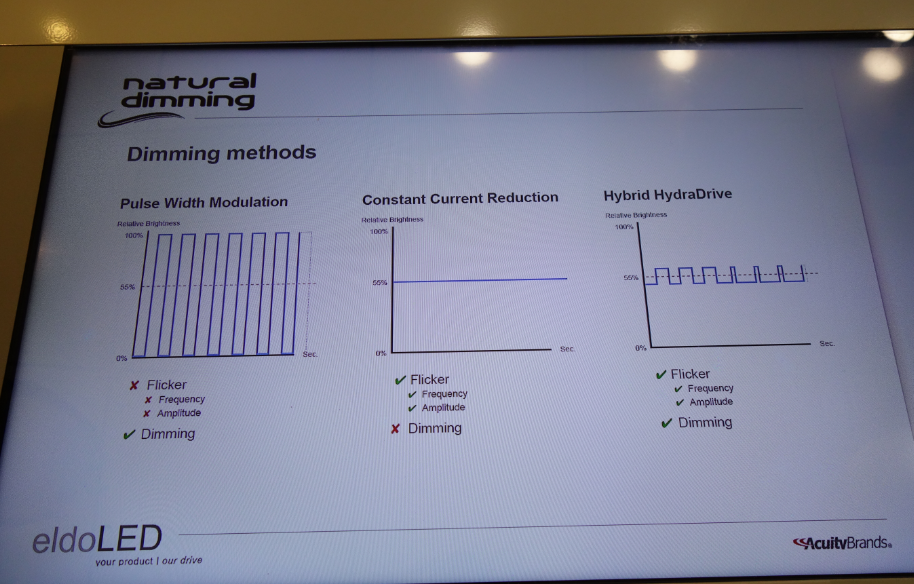 Top and bottom: Details of eldoLED's natural dimming products that it partnered up with Acuity Brands to develop.
Wtec
German manufacturer Wtec has released a completely different concept product, instead they have integrated AC/DC power drivers into servers. The company uses wire transmission to power the device and for data transmissions, the luminaire can also be connected to a sensor, by integrating the luminaire with a motion sensors it can collect data of people flow in retail shops and other statistics. The company is primarily targeting enterprises with this product, with many companies using Wtec's solution.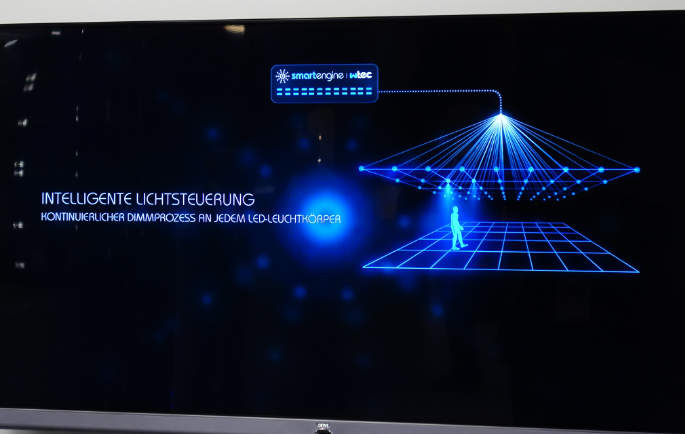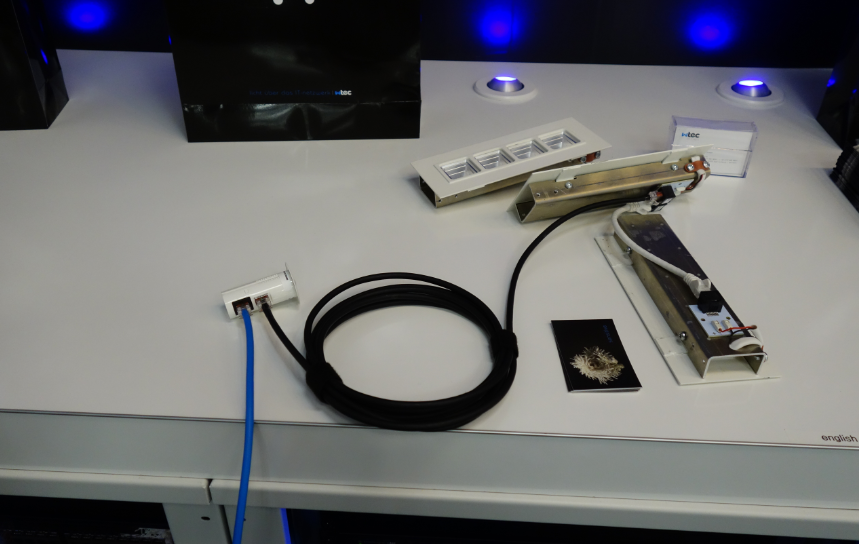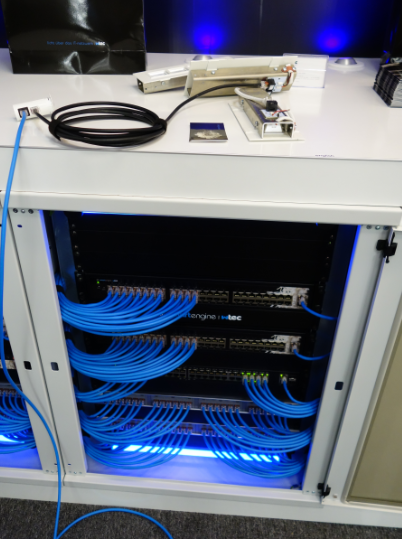 WTec's AC/DC driver incorporated device that is connected to internet servers.
To conclude, as the digital lighting era dawns on us, how to transform this "nice to have" device into a real smart lighting product will largely depend on consumers user experience and the actual benefits such a system could bring. Perhaps advanced or complicated technology might not be a prerequisite for manufacturers to create a lighting experience that a child can simply enjoy and immerse himself in.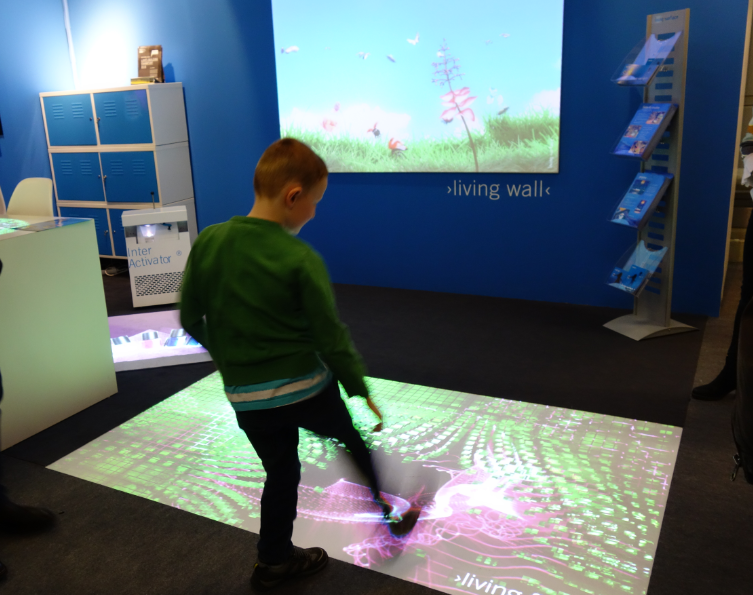 A boy happily interacting with a simple smart lighing device.
(Author: Roger Chu, Research Director, LEDinside// Translator and Editor: Judy Lin, Chief Editor)